Our History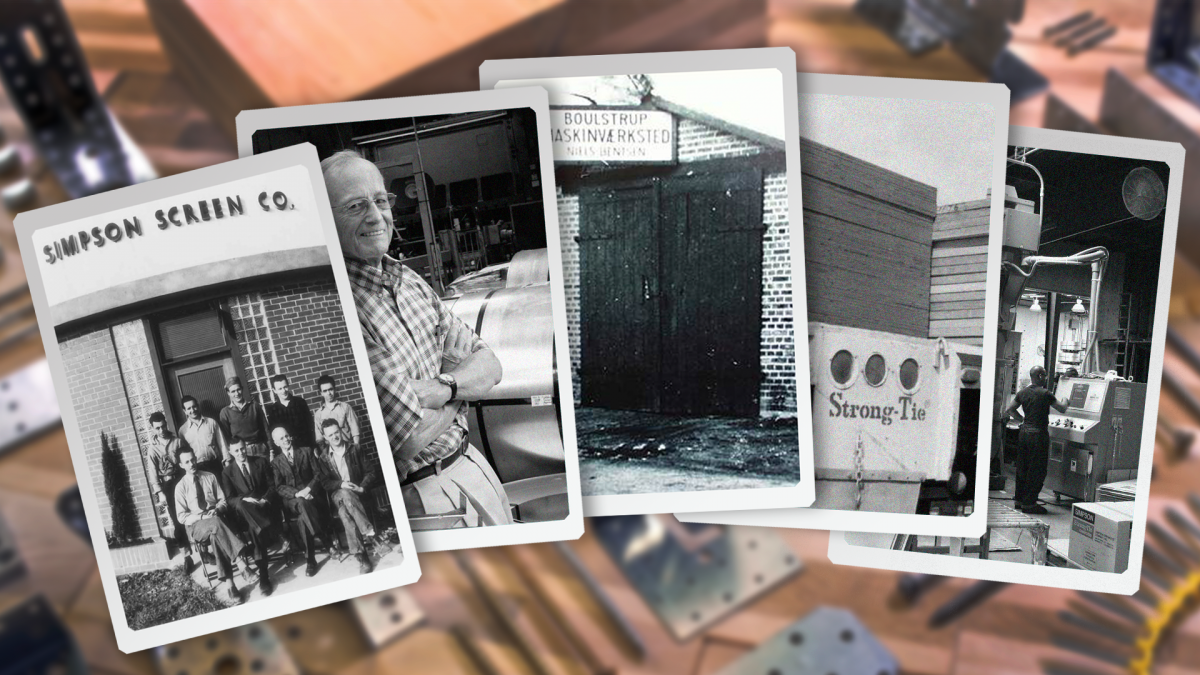 The history of Simpson Strong-Tie® began more than 60 years ago and in the early 90s the step across the Atlantic followed ... Since then the group has continued to develop through the constant expansion and acquisition of several companies.
Wood connectors are and will remain the core business, but we are also active in the field of metal dowels, chemical fasteners and magazined screws.
On a Sunday evening in the summer of 1956, Barclay Simpson's doorbell rang. A neighbor's brother had stopped by to ask if he could make a product to connect the ends of 2x4s for a roof. Barclay replied, "Of course!" So he sat down with his plant foreman, developed some rough sketches and used a punch press to create his first joist hanger.

That simple beginning was about more than just solving problems. For Barclay, it was about putting the customer first. Our phrase–"Our customers are our bosses"– is a simple philosophy that permeates all that we do.

At Simpson Strong-Tie, it's about enjoying what we do, doing it right and supporting our customers every step of the way–from order placed to product installed.

Today, Simpson Strong-Tie is the world leader in structural product solutions–solutions that not only help our customers, but help make structures safer and stronger. The company is recognized as the genuine connector brand in the residential construction industry, and also for its ever-expanding offering of shearwalls, moment frames and fasteners. In the last two decades, the company has expanded further with products for infrastructure, commercial and industrial construction, including mechanical anchors, adhesives and products that repair, protect and strengthen concrete and masonry.

But even with all of the growth, we still keep it simple, focusing on the core values that Barclay instilled and living up to our reputation of reliability, innovation, quality and service.

Simpson Strong-Tie is the unquestioned leader of connectors to wood  operating on 6 continents. We employ dozens of engineers around the world, whose task is to provide technical support to customers and constant development of products to meet the expectations of the constantly growing market of building materials. Despite the global reach, we are always close to our local partners: design studios and offices, investors, contractors and distributors.

Thanks to broad competences and constantly expanding knowledge, we are able to solve complex problems of clients without the need for their direct involvement. The knowledge of our technical advisers and supporting tools include Connector Selector and the CAD drawing library give developers and designers extensive opportunities.

The experience gained over the years has given us the opportunity to work with many clients representing various industries, which taught us flexibility and the ability to tailor the offer to individual needs. Our key advantage is knowledge and experience applied and tested in practice, thanks to which we better understand and meet the needs of our clients. We are constantly working on increasing the safety of our fittings for the construction industry, investing in technical research and endurance tests of each product. That is why all our products are designed to meet the building standards in force in the countries in which we operate.

We help clients build safer structures at a lower cost. We do this by designing, constructing and manufacturing construction fittings and accessories.

The portfolio of SIMPSON Strong-Tie has over 6,000 shapes and sizes as well as integrated product systems for all types of connections of elements of any structure, including made of glued wood, sawn timber and wood-like materials. A large range of connectors allows you to build facilities from sports halls, large architecturally complicated public buildings, modern churches through residential houses, ending with sheds and pergolas. Joints are good for both skeletal construction and roof trusses on masonry buildings.